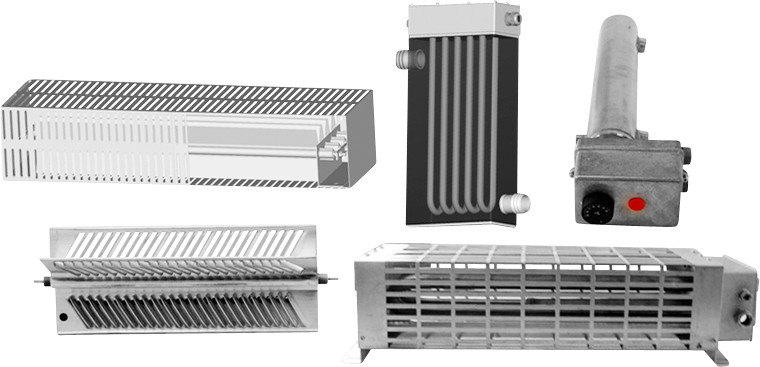 Protect the environment by increasing energy efficiency
BACKER: RESISTORS
Backer supplies a wide range of resistors used in many diffrent applications, helping to protect the environment by increasing energy efficiency. Wind turbines, industrial drive systems, public transport systems, marine propulsion, and nuclear research institutes – all need resistors to increase the efficiency of their systems. We use thermal simulation software to optimize and customize our solutions to perfectly align customer requirements with customers and specific applications.
BACKER: RESISTORS
At the Backer Group, we can offer a wide range of technologies for the production of resistors. An advantage with resistors from Backer is that they can withstand high loads, since we use large diameter resistance wires that provide low resistance. The option of using water/liquid as cooling media enables high power resistance. We also have large element diameters, for higher voltages.
All resistors are custom made, but our standard concept speeds the development process. The elements are fully tested for insulation and dielectric rigidity. Moreover, the elements are often built into protective cages to prevent contact with heated parts. Computerized load simulation is also performed to optimize each resistor application.

Terminal boxes

External link. with different IP classes can be used. Numerous elements are often connected together, in series and/or parallel, to achieve the intended properties.
PRODUCT EXAMPLES:
Brake resistors
Power resistors
Load resistors
Shunt resistors
Water-/liquid cooled resistors
NOVI SAJT BACKER:

Resistors
Backer offers a very wide range of both air- and liquid-cooled resistors, adapted for applications such as braking resistors, charging resistors, discharge resistors and energy dumping resistors.
About resistors
We provide various technologies for the manufacture of resistors. Our resistors can handle high loads and high power effect when they are manufactured with a resistance wire with a large diameter and with the possibility of cooling down with water / liquid. We also manufacture resistors with large pipe diameters, which withstand high voltage. The elements of our resistors are tested to check their insulation and dielectric strength.
To prevent contact with heated parts, we often build the elements into protective housing. In addition, computerized simulation of pulse load is performed to optimize all resistor applications.
Trains
Hybrid vehicles
Wind power turbines
Ships
Cranes
Trams
Frequency converters
Sine-wave filter resistors
Vehicles
Material

Steel - Grade D
Stainless steel - EN 1.4301, EN 1.4404, UNS S31254, UNS N08904, Incoloy 800, Incoloy 825
Aluminum AA6060, AA6063

Types of cooling

Air: convection or forced convection
Liquid: water, oil etc.

Dimension

Tubular elements: Ø 8.5, 14, 21 mm
zinc-aluminum alloy section I- or X- shaped, with or without cooling fins

Assembly




Attachment of elements

Flanges: welded or brazed
Nipples: pressed or brazed

Connection

Wiring
Threaded pins M4/M6

OTHER RESISTORS - A WIDE PRODUCT RANGE

The Backer Group, specializes in electrical resistors and brake resistors. We are known worldwide for our high quality design and resistor production for electro, mechanic-, wind power and telecom for example.

Among our products:

Resistors in aluminum housings
Ceramic wire-wound resistors
Open wire-wound resistors
Rheostats
Steel grid resistors

Design




Others



Material

Aluminum

Dimension

Code PC.06.060.00
Ø60x60mm, cable gland Pg11
one-piece configuration, deep-drawn Aluminum


Code PC.12.110.00
Ø116x107mm, cable gland Pg16
two-piece configuration, die-cast Aluminum

Code PC.09.090.00
Ø90/Ø70x90mm, cable gland Pg13.5
configuration with cap cover, die-cast Aluminum

Assembly

Mounted on heater with threaded flange G1¼"-G2½"
Mounted on heater with flat flange
Mounted on protective tube of heater or thermostat

Design

Die-cast aluminum - rugged design
Deep-drawn aluminum sheet metal - light design
Natural aluminum look or painted finish
One-piece, two-piece or configuration with cover

Others

Protection class IP66
With or without thermostat and thermal cut-off
With or without electronic control