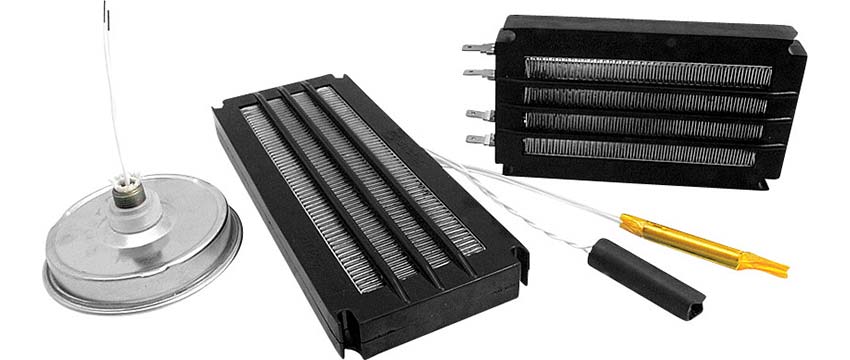 Positive temperature coefficient technology
PTC elements are used as heating sources in air heaters, drying units and compartment heaters for cars and trains. PTC elements consist of PTC thermistors and aluminum strips joined by brazing or gluing. The PTC element can be mounted in a frame of heat-resistant plastic or integrated a specific application.
PTC elements offer many advantages such as quick and uniform heating and no power variation despite the presence of air flow. They have a self-regulating function and a long life-time. There is no risk of overheating. PTC technology is also used in tubular and flexible elements.
Compartment heaters
Dehumidifiers
Radiators, Towel dryers
Air heaters, Fan heaters, Hot air curtains
Warming plates
Glue guns
Heating systems for vehicles
Tumble driers, Hand dryers
Cabinet heaters
Defrosting, Evaporation of condesed water
Type of heating

Forced convection - air heating
Direct - water and/or air heating
Contact heating

Material

PTC thermistor: Ceramic BaTiO3
Fin: Aluminium strips
Adhesive, coating: Silikon
Frame: Heat resistant plastic
Tube: Stainless steel AISI 316L / EN 1.4404, AISI 304 / EN 1.4301


Dimension

Standard range or acc. to customer specification

PTC air elements: 120x53x22mm, 120.5x70.5x22mm, 173x70.5x22mm, 122x115x20mm, 138x138x44mm

PTC water elements: Ø12x121mm, Ø12x171mm, Ø12x221mm, Other lengths: 50-300mm, acc. to customer specification

Assembly

Assembly in a frame of heat-resistant plastic
In-building in the actual application
Casting in heat-resistant plastic
Customer-specific aluminum sections/profiles
Nipple on one side: G3/8", G1/2", G1"

Connection

Tab terminals
Cable, wiring, vulcanized connection

Design

Standard range as well as custom made products
PTC air elements (forced convection)
PTC water elements (Immersion elements Ø12mm)
Heating chips


Others

Switching temperature: Curie set point Min. 50°C, Max. 260°C
Voltages: 110-400 Vac, 12-36 Vdc
Safety acc. to EN 60335-1
Rapid heating
Self-regulating function
Heating power controlled by the air flow
Uniform heating without power variations
No risk for overheating
No overheating protection and regulation needed
Long service life
Can be installed in any direction
Compact construction
Large heat transferring surface

Energy saving