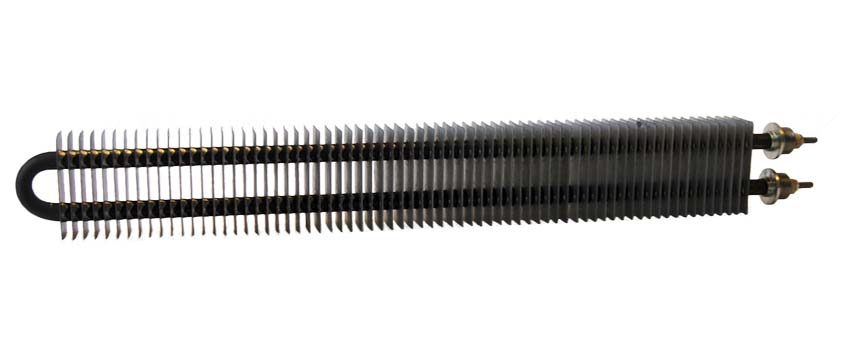 Compact heater with low surface temperature
Finned cabinet heaters consist of tubular heating element diameter Ø8.5mm are bent in U shape and fins are pressed to tube in order to increase heat transfer and heating surface. Fin material depends on application and we can offer zinc plated steel fins and stainless steel fins. Compact and rugged design, modularity and easy assembly makes these products quite often in use for numerous applications.
Finned cabinet heaters can be used in combination with fans (forced convection), but are regularly and often used without fans (natural convection). Finned heaters are usually produced with electrical connections M4 and mechanical connections M14x1.5, other connections upon request.
Climate control
Frost protection
Prevent moisture, condensation and freezing
Cabinets
Electric plants
Engines
Type of heating

Convection
Forced convection


Material

Tube material - Stainless steel:
AISI 321 / EN 1.4541
AISI 309 / EN 1.4828


Fin material:
Stainless steel: AISI 304 / EN 1.4301
Zinc plated steel

Dimension

Standard range or acc. to customer specification
Tube diameter: Ø8.5mm


Heaters available on stock:
Fin dimensions: 55x25mm
Lengths: 155/205mm, 205/255mm, 305/355mm, 405/455mm

Assembly

Standard solution: Nipples M14x1.5mm

Nipples, fixing plates, etc. acc. to customer specification

Connection

M4, M5, cables, tab terminals

Design

Standard range or acc. to customer specification
Tubular heating element with square fins

Others

Voltage: 230V
Power: 150W, 300W, 500W, 700W
Safety acc. to EN 60335-1

Regulation: External thermostat and/or hygrostat
Reduced surface temperature
Increased area
Compact design
The heater can run separately from fan