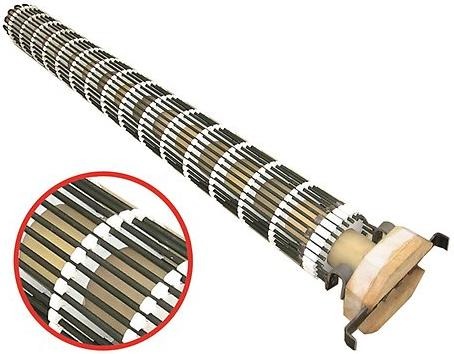 Shaped heaters supported on ceramic plates
Cage rod elements consist of metallic heaters and electrically non-conductive parts such as ceramic plates or spacers. These ceramic plates serve as insulation between heater and radiant tube. Also, holes and grooves in the ceramic plates receive the heaters, which in this way are kept electrically insulated from each other. The central rod is necessary to bind the ceramic parts together.
Heaters can be made from CrFeAl alloys or from NiCr alloys, depending on working conditions, temperature and atmosphere. Cold ends can be created by inserting ceramic parts between electrical connection and heating part. To prevent the heater from overheating, it is recommended to use one safety thermocouple per element or at least one per heating zone on furnace. Power depends on the element diameter, length and temperature.
Melting processes and casting plants
Enameling, holding and other industrial furnaces
Heat treatment applications
Steel and aluminum industry
Automotive and general engineering industry
Type of heating

Radiation
Convection


Material

Heater: FeCrAl alloys or NiCr alloys
Ceramic: Cordierite, Alumina
Central rod: Stainless steel
Insulator: Ceramic fiber

Dimension

Standard diameter: Ø68mm, Ø168mm
Length: 400-2000mm
Other dimensions available upon request

Assembly

Vertical or horizontal installation position
Mounted inside tube or or stand-alone

Connection

Terminal rods for electrical connection, with or without thread

Design

Acc. to customer specification

Other

Power: 5000-20000W
Voltage: 55V, 76.6V, or acc. to customer request
Maximum operating temperature:
1250°C for FeCrAl alloys
1150°C for NiCr alloys
Can be used inside tubes or as stand-alone elements
Can be installed both horizontally and vertically
Long service life
Savings in replacement and maintenance costs
Higher power output compared to conventional heaters