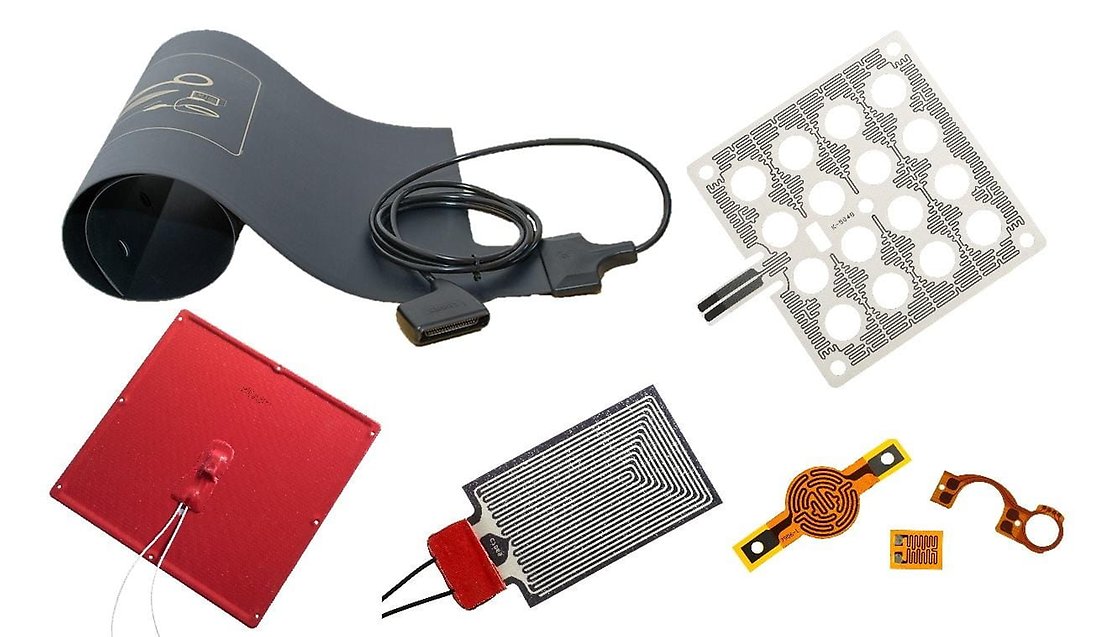 Possible to use in almost any application
Flexible heating elements offer many advantages such as even heat distribution, fast heat-up, compact design, low weight and power density. This makes the field of application broad and diversified. They can be designed in almost any shape and the large choice of insulation materials makes it possible to use flexible elements in almost any application. The even heat distribution also makes the flexible element energy efficient.
Heating element inertia improoves the heat accumulation and provides a longer cooling time. It also means longer time is needed to heat up the element. Various flexible elements mounted on the front panel can here offer a perfect combination, providing instant heat radiation evenly distributed on the front panel, until the main heat source has reached the set temperature.
Medical and laboratory instruments
Heat pumps, compressors and crannkcases
Barrel, drum, pail or cylindrical vessel heaters
Food heating applications
Underfloor heating
Bathroom mirror heaters
Heating panels, ceiling heaters
Various industrial applications
Preventing ice and condensation
Refrigeration and evaporation systems
Type of heating

Contact heating
Air heating
Indirect liquid heating
Defrosting

Material

Silicone
Polyimide
Polyester
Aluminum
PEN - Polyethylene naphthalate
PET - Polythylene terephthalate
PVC - Polyvinyl chloride
FRTP - Fibre reinforced therm plastic

Dimension

Almost without limits

Standard range or acc. to customer specification

Assembly

Adhesive
Self adhesive
Clamping
Vulcanized on sheet metal
Coil spring

Connection

Cables
Connecting wires
Tab terminals

Design

Many types of configurations to fit the size and shape required

Multiple circuits or voltages in the same element

Possibility to add thermostat, safety fuse, thermistors or temperature sensors


Others

Power: Max. 1500W
Voltage: Max. 400V, Single or three phase
Operating temperature: Max. 230°C

Safety acc. to EN 60335-1