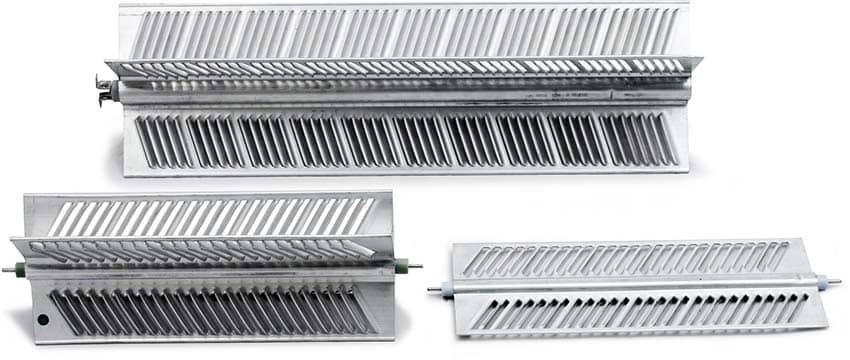 Silent running, even heating and low weight
Aluminum elements are developed to improve old, traditional heating systems. They guarantee a noiseless operation, perfect performance and optimal efficiency. With aluminum elements you benefit from the excellent heat conduction of the material and the enlarged surfaces allows a compact design of your application.
You get a fast and uniform heating along aluminum sections. Large surface area gives low working temperature. This prevents any burned smell and blackened wall paper above the convector. The aluminum elements can also be surface treated to further improve the radiation efficiency.
Radiators
Convectors
Train compartment heaters
Inner ceiling radiant heaters
Frost protection

IR elements
Heating fans
Heat curtains
Towel heaters
Type of heating

Radiation
Convection

Material

Aluminum AA6060, AA6063

Dimension

Standard range or acc. to customer specification
Element diameter: Ø8.5mm or Ø14mm
X-profile: 51x71mm, 65x84mm or 67x89mm
I-profile: 80mm or 100mm, 180mm (ceiling heating)
Length: Min. 250mm, Max. 1500mm

Assembly

We offer special fixing devices
Attachment in object


Connection

M4, tab terminal, spot welded cable, round pin 1.50mm or 2.5mm

Design


One or two wattage ratings/element
Connection at one or two ends
X-profile or I-profile (concave or straight)
Elements for convection, Elements for radiation
Uncoated, anodized or painted elements
Elements with surface enlargement, finned profile

Others

Operating temperature: Max. 350°C
Voltage: 230V, 400V, Max. 480V
Safety acc. to EN 60335-1
Low weight
High degree of corrosion-resistance
Effective conduction of heat
Fast and even heating
Long duration product
No odour during heat up
Noiseles
Energy saving
Low tool cost for new production