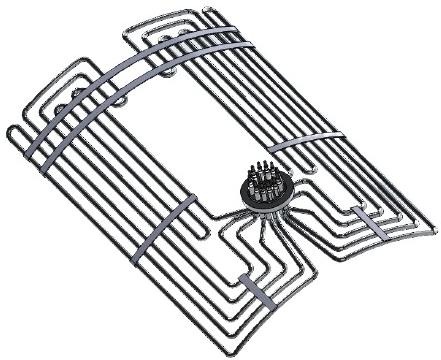 The most popular for air heating and radiation
Round tubular heating elements for air application are made in straight or bend shape according to customers needs. We produce elements from stainless steel tubes, high quality MgO insulation and resistive coil. The resistive coil is made from NiCr or FeCrAl alloy and placed in the center of tube, afterward compacted with MgO which provides even and fair heat transfer. At the ends of the element are terminal pins (cold ends) which length may vary. In order to prevent penetration of moisture inside of the elements, elements are sealed with appropriate silicones or epoxy. We produce dark annealed stainless steel elements thus allowing bending and eliminates stresses inside protective tube.
Elektrotermija produces air tubular electric heating elements with mounted electrical and mechanical connections. We have wide range of various flanges, nipples, mounting plates and brackets for assembling of the elements to the devices. For electrical connection we provide standard electrical tabs, threaded connections or lead and cable connections.
Surface load represents ratio between power and heating surface of the element and this characteristic is essential when designing tubular heating element. Maximum surface load depends on working conditions, temperature, on/off cycles, regulation etc. We will be glad to share our knowledge and experience with you and to offer/design the best solution. We are specialized for small to medium series of tubular heating elements for air and gases.
Household appliances
Industrial furnaces, dryers
Ovens, grills, frying tables
IR-heaters, saunas
Radiators, convectors
Train compartment heaters
Packaging machines
Type of heating

Forced or natural convection
Conduction
Radiation

Material

Tube material - Stainless steel:
AiSi 304 / EN 1.4301
AiSi316Ti / EN 1.4571
AiSi 316L / EN 1.4404
AiSi 321 / EN 1.4541
AiSi 309 / EN 1.4828
Incoloy 800 / EN 1.4876
Incoloy 825 / EN 2.4858

Dimension

Tube diameter: Ø6.5, Ø8.5, Ø10, Ø12, Ø14mm

Minimum straight length: 300mm

Maximum straight lengths:
for Ø6.5: 3880mm
for Ø8.5 and Ø10: 5200mm
for Ø12 and Ø14: 4750mm

Length tollerance: ±1.5%, tighter upon request

Other dimensions avaliable upon request

Assembly

Fixing in the object with flanges/nipples, fixing plates, etc. acc. to customer specification
Great variety of standard solutions


Connection

M4, M5, M6, spot welded cables, tab terminals, round pins

Design

Custom made elements as per customer request, drawing, sample, idea...

Different shapes acc. to customer specification


Thousands of different standard types produced so far

Others

Voltage: Max. 480V, for higher values consult us Surface load: Max. 6 W/cm², for higher values consult us
Safety acc. to EN 60335-1
Can be shaped to meet most demanding requests
Low tool cost for new production
Wide selection of fixing and connection devices
Easy installation
High working temperatures
Long life product
Low weight