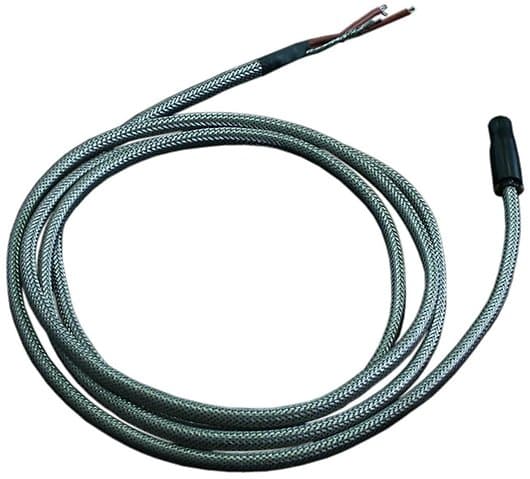 CONSTANT WATTAGE HEATING CABLES
For frost protection and temperature regulation
Constant wattage heating cables are divided into zones and can be cut to any desirable length. They have a constant wattage per meter throughout the entire length of the cable. That means that total power depends only on required length of heating cable. Elektrotermija offers these type of cables for temperatures up to 180°C and specific wattages from 10W/m to 50W/m.
Heating cables of constant power are produced by winding of heating wire around two parallel conductors . The conductors are insulated with silicone rubber. At the distance of each 500mm, around 10mm of insulation is removed thus making a contact between heating wire and load or neutral conductor. Outer layer of silicone insulation guarantees good flexibility and resistance to high temperatures. Metal braid gives protection from mechanical damage, improves heat transfer and can be used for grounding.
The heating cables must not cross one another and a thermostat must always be used to control the temperature. We supply a wide range of thermostats and accessories for heating cables.
Air-Conditioning - heating and temperature maintaining of containers, tanks, reservoirs, bunkers
Constructions - freezing protection of metal and plastic pipes, valves and fittings; temperature maintaining of steam, oil fuel and water pipelines
Civil engineering - removing of snow and ice from: roofs, water shoots, drains, skylights, staircases, pavements, ramps; under floor heating of residences, business offices
Refrigeration - prevention of condensation on cooling cabinets; defrosting of evaporators; door heating in cold storages; under floor heating of cold storages; compressors
Various purposes - heating of aquariums, terrariums, glasshouses; agriculture applications, growing of vegetables, flowers and mushrooms, breeding of animals; electric blankets, telecommunication equipment, satellite antennas
Type of heating

Defrosting, frost protection
Tube and container heating
Temperature maintaining in process plants
Installation in liquid
Floor heating


Material

Heating wire: Resistance alloy NiCr, CuNi, FeCrAl
Buswires: Tinned copper
Insulation: Silicone rubber - white
Buswire insulation: Silicone rubber - white
Protective braid: Tinned copper


Dimension

Cross section, without braid: 7.5x5.2mm
Cross section, with braid: 8.1x5.8mm
Cross section, with final outer jacket: Ø8mm


Heating length: Acc. to customer specification
Min. heating length: 0.5m
Max. heating length: 161m (10W/m), 80m (20W/m), 53m (30W/m), 40m (40W/m), 32m (50W/m)

Bending radius: Min. 20mm 

Assembly

Adapted for the application
Fixing to the object
Self adhesive aluminum tape
Sheet metal mounting strips


Connection

Flexible cables acc. to customer specification
Connections at one end
Min. cold end: 0,4m

Design

With or without final outer jacket - transparent silicone rubber insulation.
Tinned copper braid provide mechanical protection and a positive groun path.

Others

Specific power: 10, 20, 30, 40, 50W/m²
Voltage: 230V
Power: Max. 1610W
Current: Max. 7A

Max. operating temperature: 180°C
Max. temperature (short-term): 230°C
Min. temperature: -30°C

Dielectric strength: 1500V/1s
Buswire gauge: 0.75mm²

Accessories: Capillary, ambient or contact thermostats, Regulators, Sensors, Control cabinets
Excellent flexibility
Good mechanical and temperature resistance
Adaptability to different heating surfaces, easy to install
Small cross section
Connection on one side
Breakdown on one heating section does not cause a breakdown of entire heating cable
No current peaks at startup
Feasibility of cutting off cable to required length
Without visible signs of aging during exploitation period