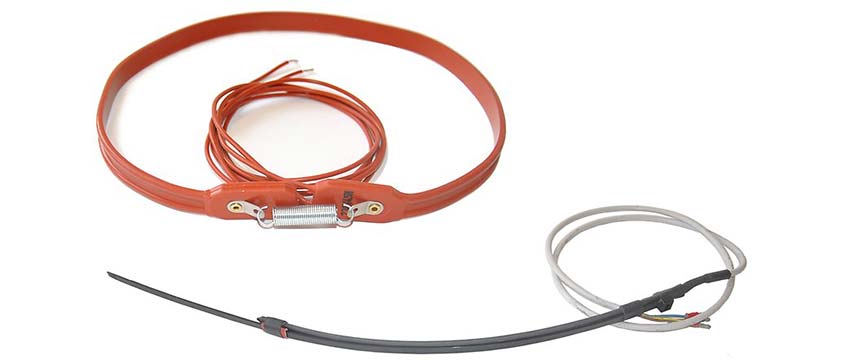 With heating cable as well as silicon heater
BACKER: COMPRESSOR & CRANKCASE HEATERS: Eliminate start-ups with cold oil and increase the life time of the compressor. Backer has a standard range of heaters for compressors and crankcases, e.g. for heat pumps both in a design with heating cable in an aluminum section, as well as silicon heaters. We can also supply other lengths and wattages.
If you have a special need regarding heating of compressors, contact us for a custom made solution.
"Standard range of heating products for crank cases of compressors to heat pumps, etc. The main purpose is to avoid starts with cold oil in the crank case and as a result prolong the life time of the compressor. The heaters can also be costumized."
"Backer is a leading producer of compressor heates and develop products in aluminium and polymer according to the latest know technologies. With manufacturers of compressors and heat pumps as well as other big volume users in mind, Backer offer a big standard range of compressor heaters. In close cooperation with our customers we also produce tailor made solutions."
CRANKCASE HEATER IN SILICON: Withstands ambient temperatures from -50°C to 200°C. The heaters are supplied with a coil spring for attachment around the compressor crankcase. For safer attachment and better surface contact, we recommend our stainless steel bundle strap. Voltage/Power/Length, H-kabel/Length, cable ties/Length, connection cable "Compressor heater in silicone rubber that can manage a surrounding temperature from -50°C to 200°C. The heaters are furnished with a feather for fixing around the crankcase of the compressor. For better fixing and better contact we recomend the use of our stainless steel bundle band "
CRANKCASE HEATER - HEATING CABLE: A self-regulating heating cable with an operating temperature of 65°C, including connection cable and UV-proof stainless steel bundle strap for attachment around compressor crankcase. Voltage/Power at 10 °C/Length, H-cable/Length, tie/Length,connection cable. "A self regulating heating cable with operating temperature 65°C furnished with a connection cable and an UV-resistant bundle band for fixing around the crank case of the compressor."
STAINLESS STEEL BUNDLE STRAP FOR CRANKCASE HEATERS: Material AISI 304/ Length 838 mm/ Width 4,6 mm "Stainless steel bundle band for mounting of comperssor heater"
CRANKCASE HEATER IN ALUMINUM: A new generation of crankcase heater, extremely efficient. The next generation in compressor heat technology. The sleek aluminium design offers improved performance with installer friendly features. Now in 7 different standard range models! Diameter mm/Dia. Min-Max mm/Effect W "Crankcase heater with a shell of aluminium and a constant power. Voltage 220-240V." Description: The next generation in compressor heat technology. The sleek aluminium design offers improved performance with installer friendly features
Residential compressors
Commercial compressors
Refrigeration compressors
Heat pumps
Various cylindrical vessels
Type of heating

Contact heating

Material

Silicone rubber (200°C)
Self-regulating heating cable (65°C)
Stainless steel adjustable toggle clamp and band (150°C)

Dimension

Standard range or acc. to customer specification

Silicone heaters available on stock:
Width: 25mm, Length: 400, 500, 600, 700, 800, 900, 1000mm

Assembly

Coil spring, for silicone heater
Adjustable toggle clamp and band, for heating cable

Connection

Cables, connecting wires

Design

Designed as a silicone heater
Designed as a heating cable

Shapes and sizes available to fit standard compressors.
Custom shape and sizes available to fit specific compressor.

Others

Voltage: 230V
Power: 40-100W
Alternative product: Catridge heaters, Silicone barrel heaters

Easy to install
Quick adjustment
High effeciency
Quick temperature rise
Can be customized
Reduced energy consumption