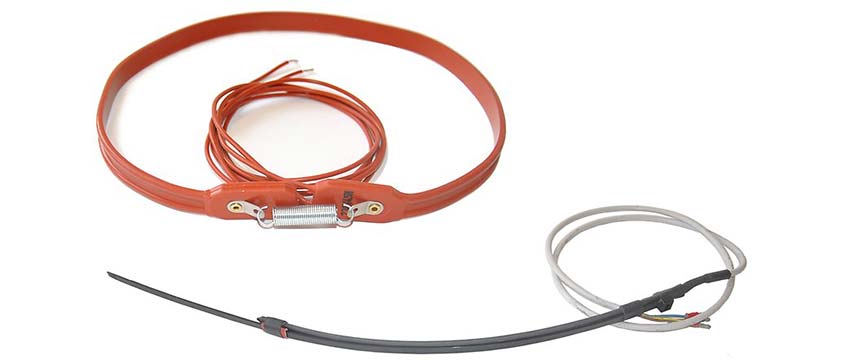 With heating cable as well as silicone heater
The main purpose of these heaters is to avoid start-ups with cold oil in the crankcase and as a result increase the life time of the compressor. Elektrotermija has a standard range of heaters for compressors and crankcases, e.g. for heat pumps both in a design with heating cable, as well as silicon heaters. We can also supply tailor made solutions, with other lengths and wattages.
Compressor heater in silicone rubber withstands temperatures from -50°C to 200°C. They are supplied with a coil spring for fixing around the compressor crankcase. For better surface contact, we recommend the use of our stainless steel bundle band.
Also, Elektrotermija produces a self regulating heating cable with operating temperature 65°C, including connection cable and stainless steel bundle band for fixing around the crankcase.
Residential compressors
Commercial compressors
Refrigeration compressors
Heat pumps
Various cylindrical vessels
Type of heating

Contact heating

Material

Silicone rubber (200°C)
Self-regulating heating cable (65°C)
Stainless steel adjustable toggle clamp and band (150°C)

Dimension

Standard range or acc. to customer specification

Silicone heaters available on stock:
Width: 25mm, Length: 400, 500, 600, 700, 800, 900, 1000mm

Assembly

Coil spring, for silicone heater
Adjustable toggle clamp and band, for heating cable

Connection

Cables, connecting wires

Design

Designed as a silicone heater
Designed as a heating cable

Shapes and sizes available to fit standard compressors.
Custom shape and sizes available to fit specific compressor.

Others

Voltage: 230V
Power: 40-100W
Alternative product: Catridge heaters, Silicone barrel heaters

Easy to install
Quick adjustment
High effeciency
Quick temperature rise
Can be customized
Reduced energy consumption