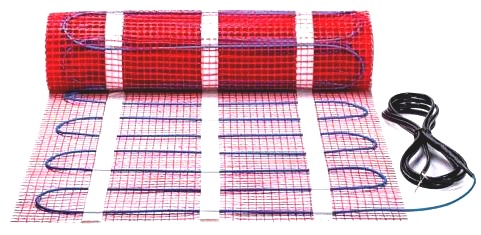 Quick heating and continuous warm keeping of floors
Heating mats are used for inside applications such as in bathrooms, toilets, kitchens, but also for hotel rooms or living rooms. The heating mat consists of a twin conductor heating cable attached to a extremely thin flexible fibreglass net. They have an adhesive back for an easy installation. The heating mat is normally placed in the adhesive layer of a tiled floor. By making an incision between cables, you can lay the mat back in the opposite direction. This procedure can be repeated until the whole floor area is covered. You can choose almost whatever covering material you like: carpets, PVC or cork, but also tiles, parquet or marble.
The heating mat has to be controlled by a thermostat. It can be controlled on floor or room temperature or a combination of these. The pleasent radiant heat allow you to reduce room temperature settings by 3°C, but your room will remains as comfy as before.
Underfloor heating, wall heating and ceiling heating
For new buildings and renovated old buildings
Suitable for carpet, PVC, marble, ceramic tiles and parquet floor
Comfort floor heating - or "Warm floor" is additional heating to another heating system

Direct heating - or Total heating is the only heating system installed in a room
Accumulating heating - is used in houses where there is an opportunity to use electricity during low tariff periods
Type of heating

Comfort floor heating
Direct heating
Accumulating heating

Material

Heating wire: Resistance alloy
Insulation: Teflon (FEP)
Buswires: Solid tinned copper
Screen: Aluminium tape and copper wire
Outer jacket:: Synthetic (PVC)

Dimension

Width: 0.5m
Length: 1-24m
Thickness: 4.5mm
Mat area: 0.5m² - 12m²
Heating cable diameter: Ø3.6mm

Assembly

Adhesive layer for fixing to the floor


Connection

Connections at one end
Power cable length: 2.5m

Design

Twin conductor heating cable attached to a extremely thin flexible fibreglass net.

Feed in from one side with only one cold wire.

Others

Specific power: 150W/m²
Voltage: 230V
Power: 75-1800W


Accessories: Controllers, Sensors, Flexible protective sleeve for sensors
Easy to install, saves time and effort
Easy adaption to the room conditions
Low investment costs
Small mat thickness
Different lengths available
Connection from one side with only one cold wire
Pleasant and healthy radiant heat
Quick heating, less energy consumption
More cosiness and living comfort