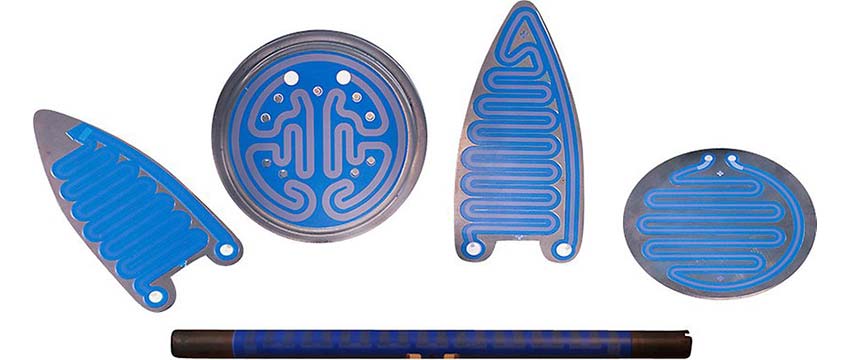 Compact size and efficient solution
Thick film heating elements are suitable for contact heating of planar surfaces, and liquids through planar wall. We also provide a thick film elements on tube, which may be used in applications requiring heating of flowing liquid.
Our thick film elements provide quick heating and have good heat transmission performance. The elements are easy to adapt to different applications. They have compact design and small built-in dimensions. We supply thick film on plates of titanium and of stainless steel.
Washing machines, Irons, Kettles
Automotive industry
Applicators for ski wax
Tubular flow through heaters
Industrial vessels and storage tanks
Life science, Medical and laboratory devices

Gastro-facilities, Commercial kitchen equipment
Mini-breweries

Water/beverage dispensers, Vending machines
Type of heating

Contact heating
Indirect liquid heating

Material

Thick film on stainless steel, AISI 304 / EN 1.4301
Thick film on titanium, Titan Grade 2 / EN 3.7035


Dimension

Plane plate: Max. length, width, height 150mm
Tube: Max. diameter 20mm, Max. length 300mm

Assembly

Fixing to the object
Attachment in pipe system

Connection

Flat connectors
Cables

Design

Thick film on plane plate
Thick film on tube

Others

Operating temperature: Max. 300°C
Surface load: 0–80 W/cm² (depending on application)
Safety acc. to EN 60335-1
Large heating surface
Compact and robust design
Low weight
Fast heating, energy savings
Good heat transfer

Easy assembly and disassembly
Possible high surface load
Suitable for heating of aggressive liquids