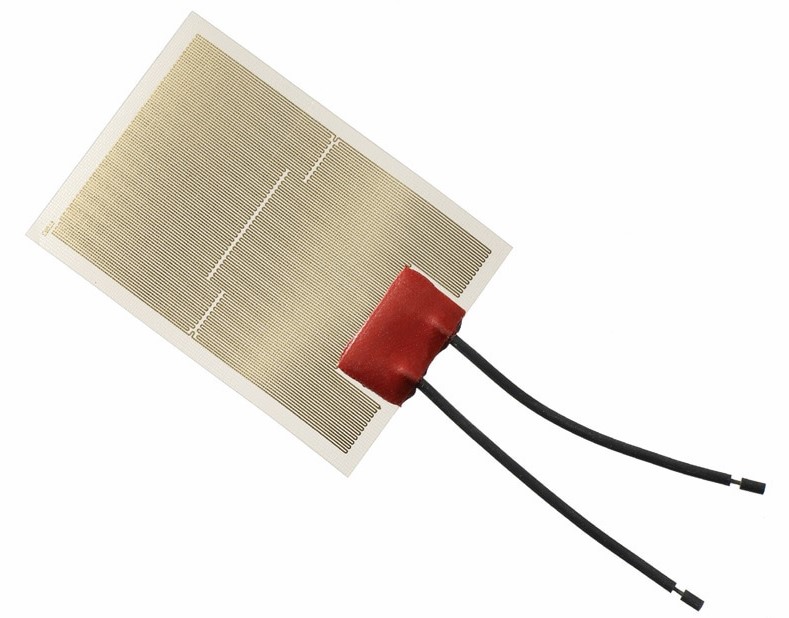 Economical and precisely manufactured
Printed foil elements, offer many advantages, besides the material being flexible. For instance, the option of multiple circuits or multiple voltages in the same element, or the ease of positioning sensors. They have superior heat transfer and exceptionally uniform heat output, which results in a faster warm-up cycle and longer life.
We can offer foil elements within a high range of technical specifications, and insulation materials such as: Polyimide, Polyester, PEN, PET, PVC, Fibre reinforced therm plastic, etc. One side of the foil element can be furnished with an adhesive substance.
Foil elements are suitable for different applications in a wide range of areas, including communications, vehicles, monitoring, medicine, individual comfort heat, domestic heating, etc.
Rearview mirror heaters
Underfloor heating
Bathroom mirror heaters
Preventing ice and condensation
Refrigeration, evaporation systems
Medical and laboratory instruments
Hand grip heaters, handles on chainsaws
Water bed heaters
Heating cabinets for food
Diesel filter heaters
Wind screen wiper heaters
Photographic equipment, lens heaters

Keyboard heaters, LCD displays
Type of heating

Air heating
Liquid heating
Defrosting
Contact heating

Material

Polyimide (-60°C / 200°C)
Polyester (-60°C / 105°C)
PET and PEN (-60°C / 160°C)
PVC (-40°C / 70°C)
FRTP - Fibre reinforced therm plastic (-40°C / 100°C)


Dimension

Acc. to customer specification
Almost without limits
Maximum width app. 600 mm

Assembly

Adhesive
Clamping
Attached on sheet metal

Connection

Cables, tab terminals

Design

Many types of configurations to fit the size and shape required
Multiple circuits or voltages in the same element
Possibility to add thermistors, sensors and IC cicuits, by soldering

Others

Voltage: Single or three phase
Surface load: From 0 to 10W/cm²

High and low temperature range
Good chemical resistance
Very thin and flexible, space saver
Soldered components possible

Low weight, possible small sizes
Long duration product
Easy assembly, self adhesive film
Precizely distributed wattage

Economical, cost efficient