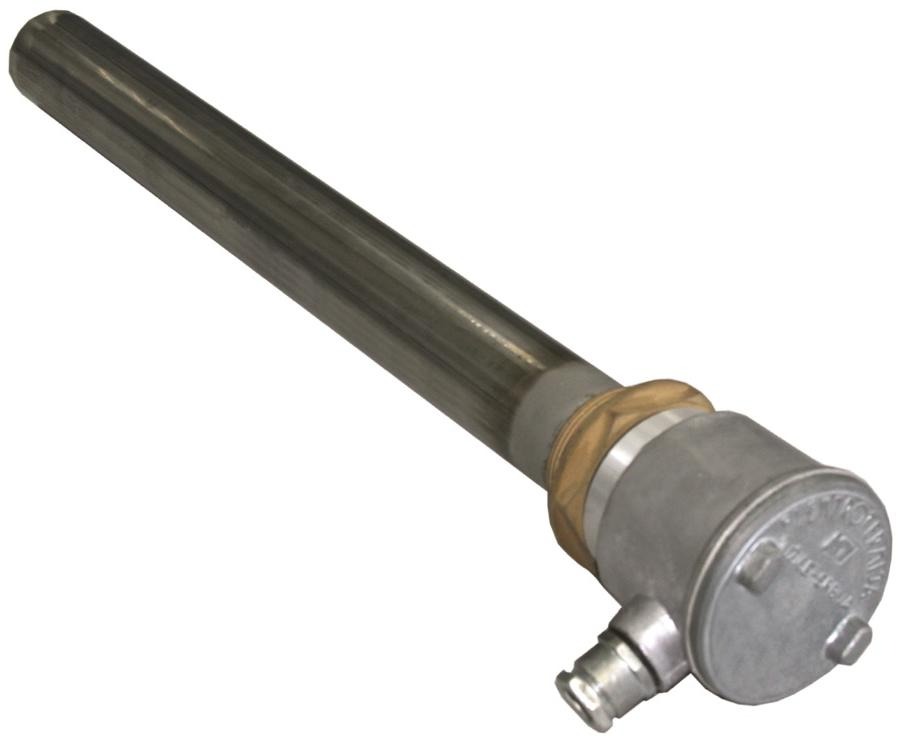 Indirect immersion heaters
Can be changed without discharge of the liquid
These immersion heaters are designed for indirect heating of liquids (water, oils, emulsions) in tanks or vessels for applications in every condition, especially heavy duty. Beside the standard types we can supply special types of heaters as per costumer's demands in short terms and without quantity limitations.
Heaters consists of ceramic cartridge placed in stainless steel protective tube. It means that the ceramic cartridge is separated from the liquid. Protective tubes can be installed in tanks in two ways: direct welding to the wall of the tank, or by flange connections (using flat or threaded flanges welded at the end of tube). Electric contacts can be protected with caps, housings or boxes. On protective caps there are cable glands for power cables.
The main advantage is in fact that ceramic cartridge can be replaced without removing tube with flange from the housing of the tank or vessel. This enables that when changing heater, there is no need to take out liquid from housing.
Preheating of oil in gearboxes and hydraulic oil
Various types of vessels, tanks, reserviors, containers
Heating of fluids in electroplating baths
Heating of water, oils, emmulsions
Heating of acids and aggresive fluids
Degreasing baths
Food industry
Type of
heating

Liquid heating

Material

Tube material:
Stainless steel AISI 304 / EN 1.4301
Stainless steel AISI 316L / EN 1.4404

Flange material:
Steel, Brass, Stainless steel AISI 304 / EN 1.4301

Protective cap material:
Aluminum, Stainless steel, Plastic (PP, PA, PE, ABS)

Dimension

Diameter of tube: Ø33.7, Ø38, Ø50.8, Ø60, Ø70mm
Length of tube: 200-3500mm
Inactive length: 50-1000mm

Ceramic cartridge: Ø30, Ø32, Ø46, Ø54, Ø64mm

Threaded flange: G1¼", G1½", G2", G2¼", G2½
Flat flange: Acc. to customer request

Assembly

Tube is welded to the wall of the tank
Tube with threaded flange
Tube with flat flange

For vertical instalation, resistantce coil should be skewed, which protects coil from loosening and falling due to own weight.

For horizontal instalation, it is recommended that protective tube with heater should be placed in vessel's bottom zone.

Heater must be always immersed into liquid.

Connection

Cable: Acc. to customer specification

Cable gland: Pg11, Pg13.5, Pg16, M20x1.5

Protective cap:
Cast aluminum - Ø90x90, Ø116x107mm
Drawn aluminum - Ø60x60mm
Stainless steel - Ø60x60, Ø63.5x60, Ø89x100mm
Polypropylene (PP) - Ø97x102mm
Polyamide (PA) - Ø112x105mm
Plastic boxes (PE, ABS) - acc. to customer request

Design

Standard range or acc. to customer specification

With sectional ceramic heater inside tube


One, two, three or more tubes on one flange

Others

Voltage: Single phase, 2-phase, 3-phase Max. 500V
Power: 200-9000W

Operating pressure: Max. 6 bar
Surface load on ceramic cartridge: 0.5-4.0W/cm²


Protection class: IP55 or IP66
Safety acc. to EN 60335-1

Regulation: External thermostat
Resistant to mechanical damage
Changing the heater without removing the tube
No need to take out liquid from tank
Compact and robust design
Long life product
Dimensions, materials and power upon request