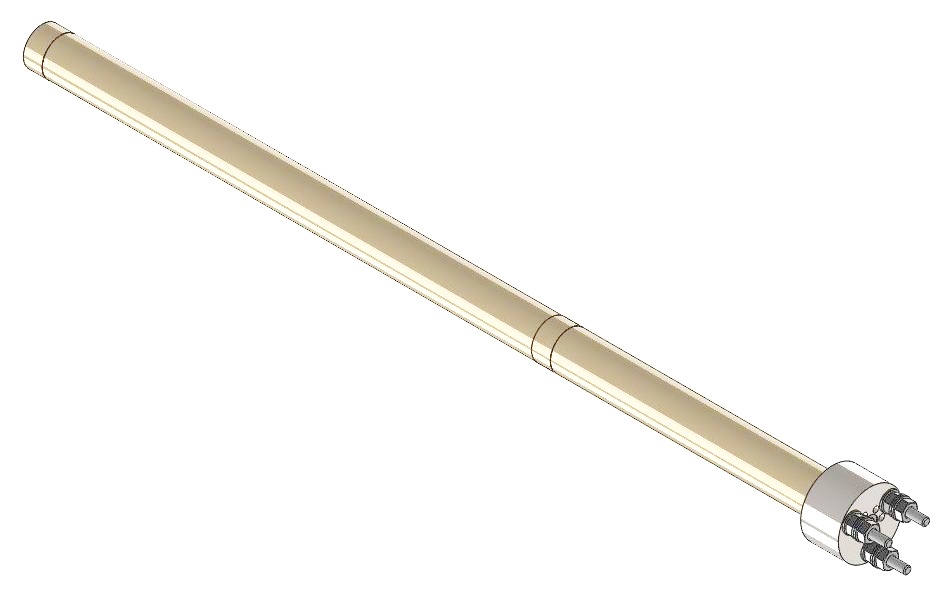 With closed or open grooves in ceramics
Round ceramic heaters are used for indirect heating of liquids or direct heating of air. For these applications, the ceramic element is usually mounted in a tube.
Elektrotermija produces a wide range of heaters with round ceramic bodies. Resistance coils are placed in longitudinal holes or grooves. Groves can be open or closed. Ceramic shorter than 300mm with closed grooves can be filled with MgO powder. Heat is transferred by radiation and natural convection.
Steam generators
Bakery and bread ovens
Duplicators, reactors
Dryers
Indirect heating of liquids
Industrial furnaces
Type of heating

Indirect - liquid
Direct - air

Material

Cordierite C520

Dimension

Heater diameter: Ø13, Ø14, Ø17.5, Ø20, Ø22, Ø25, Ø26, Ø27, Ø30mm

Heater length: Max. 1500mm

Assembly

Assembled into protective tube
Free standing in the air

Connection

M3, M4, M5, Nickel wires, Nickel wires with ceramic beads

Design

Acc. to customer specification
Connection at one or two ends
Open or closed grooves on ceramic
With or without connection head

Other

Voltage: Max. 480V
Surface load: for air 1 W/cm², for oil 2 W/cm², for water 4 W/cm²
Dimensions, power and voltage upon request
Economical, cost efficient
Fast warm up
Easy assembly and disassembly