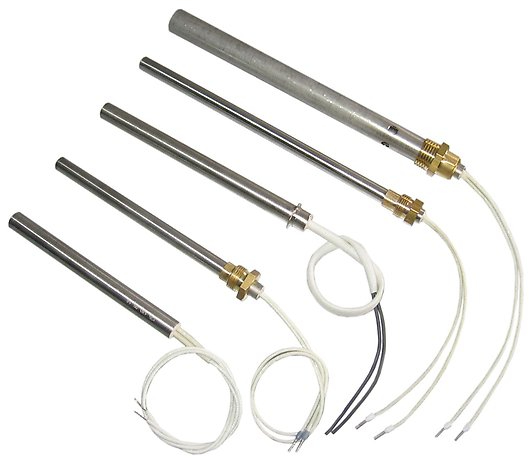 Capable to withstand the very high temperatures
Elektrotermija produces a line of heating elements for the efficient ignition of pellets and woodchips for stoves, burners and boilers. They are designed to heat air for indirect ignition of solid fuel such as pellet. These elements can be supplied as a complete assembly with an air inlet manifold tube.
Alumina ceramic heaters are suitable for very rapid ignitions or when it is necessary to achieve higher temperature. When the hole is open, the air goes both externally and within the ceramic heater. This is more effective solution and allows to reduce the incandescent time. Wood pellets and other solid fuels will be ignited quickly limiting the exhaust gases and reducing smoke to a minimum.
Our standard products are always available on stock. Special designs and tailor-made executions of heaters can be developed as per customer's request.
Domestic heating - stoves, boilers, burners
Igniters (ignition of gas, oil, solid fuels)
Pellets, woodchips and split logs
Coal and coke briquettes
Corn, maize or other biomass fuels
Barbeque charcoal lighter
Type of heating

Forced convection
Radiation

Material

Tube material:
Incoloy 800 / EN 1.4876 or Metalized alumina

Flange, ring or nipple material:
Brass or Stainless steel AISI 304 / EN 1.4301

Dimension

Standard range or acc. to customer specification


Diameter cartridge: Ø10 or Ø12.5mm
Diameter ceramic: Ø11.55mm
Diameter tubular: Ø6.5mm

Length: 90-250mm

Assembly

Heater mounted in tube/air manifold

Threaded nipple fixed on heater (3/8" or 1/2")
Flange or ring welded on heater
Straight heater - without nipple, flange or ring

Connection

Flexible cables for high temperatures
Silicone fiberglass sleeve for additional protection

Threaded pins, nuts and washers
Tab terminals


Design

High density cartridge heaters
Alumina ceramic heaters (open or closed)
Cordierite ceramic heaters
Tubular heating elements (different shapes)

Others

Power: 200-700W
Voltage: 220-240V
Max. temperature cartridge or tubular: 750°C
Max. temperature alumina: 1000°C
Ignition time: 60-120 sec

Accessories: Air inlet manifold tube, Probe, Thermocouple
Effective ignition within a short time
Extreme tolerance of high surface temperature
Minimal energy consumption
High number of switching cycles
Very simple to install and retrofit
Compact, space-saving
Long life time and high reliability
Low smoke emission during ignition
Completely insulated, no exposed electrical contacts

Ceramic elements are resistant to moisture, corrosion, oxidation, thermal stress and extremely high temperatures