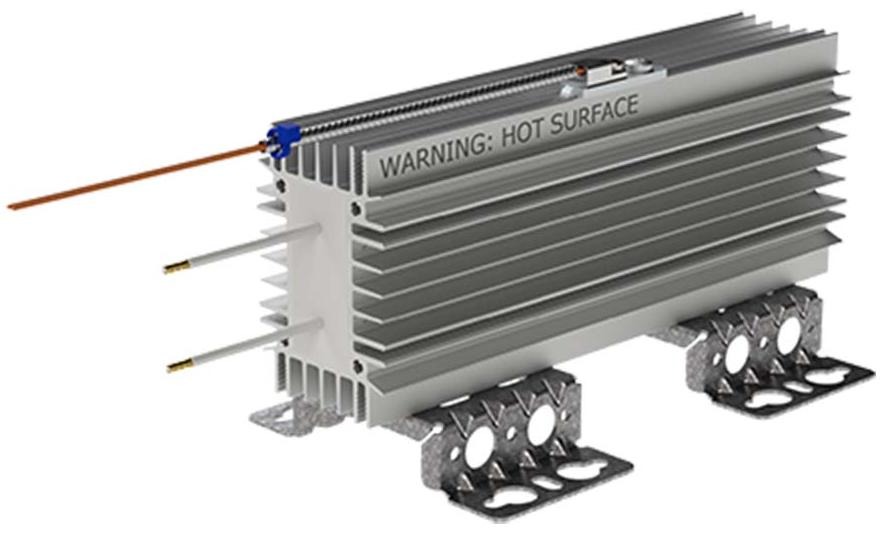 Aluminum housed resistors
Maximum heat conduction or forced air convection
Resistors with an aluminum housing provide excellent heat conduction. For maximum heat conduction, or forced air convection, these resistors have a housing with deep slats. In addition, they are manufactured with a gold-anodised surface for maximum resistance to environmental conditions. The nominal power ranges from 455W to 12kW for a quadruple housed CBT unit.

Aluminum is a metal with characteristics that make it an ideal choice for high-power resistors. The Aluminum housing is anodized, making it non-corrosive, lightweight yet durable, and is an excellent conductor of heat. The choice of aluminum for resistor housings leads to high IP ratings and good vibration withstand capability.
The surface of the housings CCR, CAR, CBR, and CBT, is extruded and deep finned for improved heat conduction. The resistors cool via natural convection. Using forced air cooling can improve cooling and/or operation at higher power ratings.
Danotherm aluminum housed resistors use UL-approved components for high reliability. Nominal power ratings range from 42 - 4350 W. The working voltage ranges are 600 VAC / 850 VDC – 3000VAC / 4200 VDC. The protection ratings for aluminum housed resistors range from IP00 to IP65.
Brake resistors
Energy dumping
Charging and discharging resistors

header
Aluminum housed resistors
All types of tubular heating elements can be used as resistors. The use of large diameter resistance wires, gives low resistance elements that withstand high loads. Large element diameter withstands high voltage.
Technical data:
Material: Steel – grade D Stainless steel: EN 1.4301, EN 1.4404, UNS S31254 UNS N08904, Incoloy 800, Incoloy 825 Aluminium AA6060, AA6063
Electric Connection: Cables Threaded pins M4/M6
Text
Text
Text
Excellent heat conduction
Resistance to environmental conditions
Good vibration withstand capability