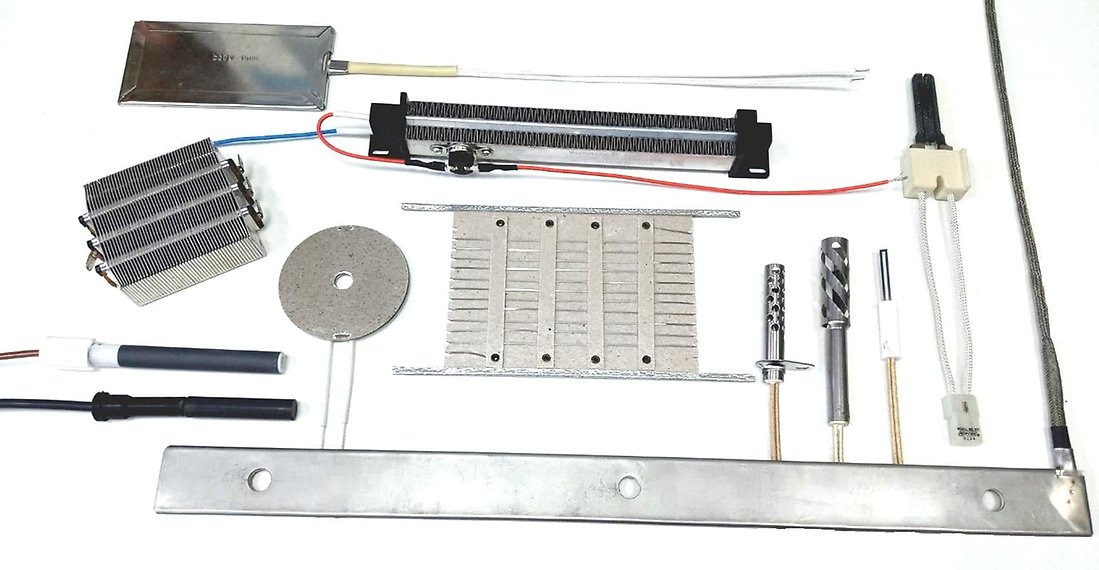 Many options and designs are available
Elektrotermija produces a line of other heating elements: Cartridge, tubular or ceramic ignition elements, Ring and band heaters with ceramics or micanite, Aluminum elements with X-profile or I-profile, Rigid or soft micanite elements, PTC elements for air and for water, Thick film elements on plane plate or on tube.
Our standard products are always available on stock. Special designs and tailor-made executions of heaters can be developed as per customer's request. We also supply a wide range of accessories, probes and thermocouples.
Ignition of pellets, woodchips and split logs
Extrusion of plastics, Injection machines
Radiators, Convectors, Heating fans
Mould and tool heating
Dehumidifiers, Defrosting, Evaporation
Medical and laboratory devices
Heat exchangers, Flow through heaters
Type of heating

Convection
Radiation
Contact heating

Material

Stainless steel
Incoloy 800
Ceramics
Alumina
Brass
Micanite
Aluminum
Heat resistant plastic

Dimension

Standard range or acc. to customer specification


Assembly

Adapted for the application

Connection

Cables
Nickel wires
Tab terminals
Screws and nuts
Flat pin connectors
Connection box


Design

Ignition elements, cartridge, tubular or ceramic
Ring and band heaters with ceramics or micanite
Aluminum elements with X-profile or I-profile
Micanite elements, rigid or soft
PTC air elements and PTC water elements
Thick film elements on plane plate or on tube

Others

Safety acc. to EN 60335-1

Accessories: Probes, Thermocouples or other depending on application