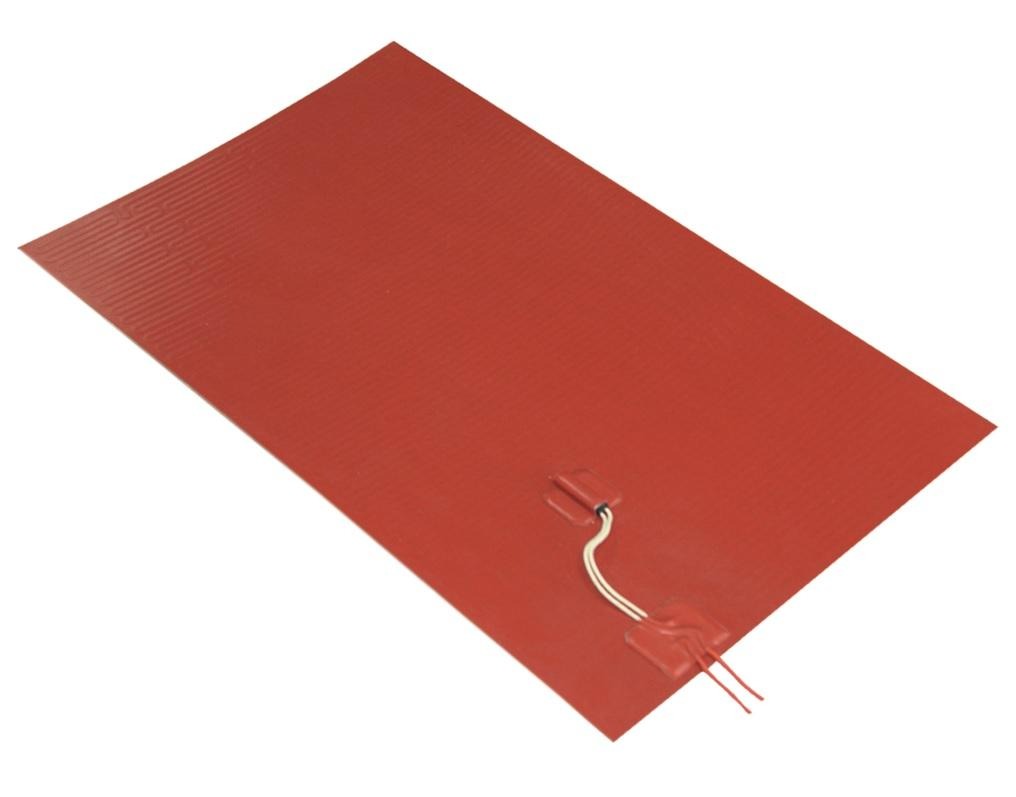 Good heat and chemical resistance
CALESCO: Silicon rubber is a rugged, flexible material with excellent temperature properties. They can be used in both high and low temperature applications.
Fiberglass-reinforced silicone rubber gives your heater dimension stability without sacrificing flexibility.
The silicone heater is chemical resistant and can be cold laminated with adhesive to various surfaces.
STOCK HEATERS: Calesco has a selection of heaters available on stock for immediate delivery to customers. The heaters are designed to a certain resistance and can be operated under different voltages to give different power as shown in the tables below. The heaters can be incorporated directly into a heating application, if the performance is right, or be used as a test heater to figure out the appropriate surface power for the specific application before ordering a tailor made heater.
Note: At surface power over ca 0,4/cm² the heater requires good contact with a suitable heat sink.
Specification for each heater type can be found in the corresponding data sheet.
BACKER STANDARD CATALOG: Backer has a range of foil elements in stock for direct delivery. The elements have a certain resistance and give different powers depending on connected voltage according tables below. The elements can be used directly in your application or to be tested for an appropriate dimension or quality before order of a special designed heater.
SILICONE: Silicone rubber is a flexible material with good heat resistance, max 200°C. Silicone rubber has a high resistance towards many chemicals. One side of the foil element is furnished with an adhesive substance. Connection cables length 200mm.
Food service equipment
Freeze protection
Condensation prevention
Medical instrumentation
Ultrasonic cleaners
Type of heating

Contact heating
Indirect liquid heating
Defrosting


Material

Silicone rubber


Dimension

Standard range or acc. to customer specification
Max. element width 600mm

Heaters available on stock (mm): 25x50, 50x50, 50x100, 95x110, 95x200, 190x200, 190x300, Ø50, Ø70, Ø100, Ø150, Ø200

Assembly

Adhesive
Clamping
Vulcanized on plate

Connection

Cables, tab terminals

Design

Acc. to customer specification
Square, round, rectangular shape
Cut, punched or shaped element
Integrated thermostats, temperature fuses or sensors

Others

Operating temperature: Min.-50°C, Max.230°C
Voltage: 12V-400V (single or three phase)
Bending radius: Min. 3mm

Can be factory vulcanized to metal parts

Self-adhesive assembly

Low gas permeability

Water proof, low moisture absorption
Uniform heat transmission
Good chemical resistance
Long life product