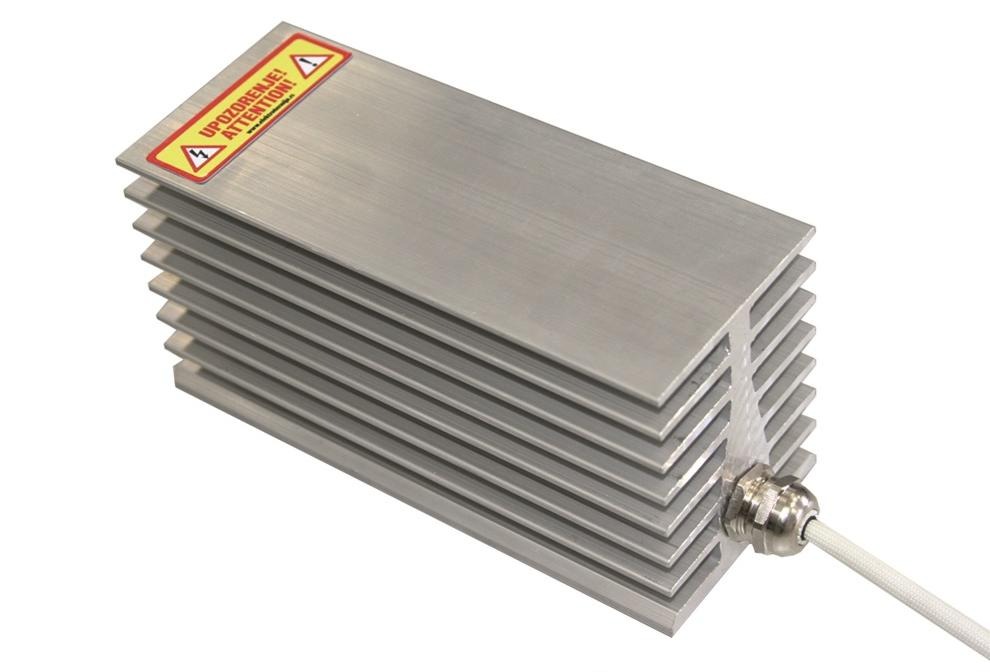 Designed for maximum heat emission
Heaters in aluminum profile are primarily intended to prevent the occurrence of condensation within the electrical cabinet. They are suitable for use in areas subjected to the action of frost or ice formation. Configuration of Al profile gives a high degree of naturalness convection. To maximize convection effect prefer a vertical installation and ensure a clearance of minimum 50mm around the heater. 
Big cabinets need more heating power and require multiple heaters, so sometimes it is necessary to install a few heaters connecting in parallel. A thermostat is installed in the heater which automatically turns it on and off, not allowing the surface temperature to exceeds the maximum value. It is possible to produce heaters with length, voltage and power according to special requirements.
Climate control, frost protection
Prevent moisture, condensation and freezing
Electrical cabinets and plants
Fuel pumps
Engines / Drives
Computers / IT / Telecom
Weather stations
Anti-freeze devices
Transformer cells
High-voltage switches
Type of heating

Convection
Forced convection


Material

Aluminum profile

Dimension

Standard range or acc. to customer specification
Element diameter: Ø12mm


Heaters available on stock:
Profile dimensions (excl. DIN clip): 66x80mm
Lengths: 100mm, 120mm, 160mm, 200mm, 250mm, 300mm

Assembly

Mounting on 35mm DIN socket

Connection

Cable 1m included

Design

Standard range or acc. to customer specification
Cartridge heater and thermal cut-off inside
Anodized aluminum neutral or black

Others

Voltage: 230V
Power: 35W, 60W, 80W, 100W, 150W, 200W
Operating temperature: 70-120°C
Safety acc. to EN 60335-1

Regulation: Internal thermal cut-off, External thermostat and/or hygrostat

Alternative product: Heaters with self-regulating PTC-element, Heaters with fan
No risk of over heating
Thermal cut-off inside heater
Extruded aluminum body resistant to corrosion
The heater can run separetly from fan
Quick and easy installation on DIN socket