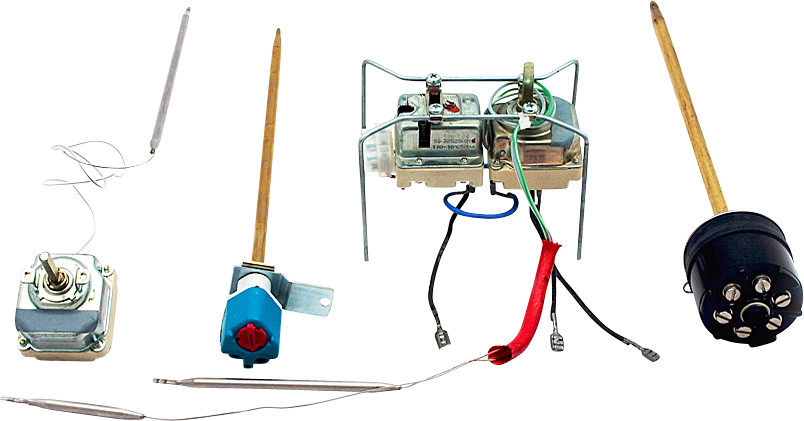 Thermostats & thermal cut-offs
Used to control power supply and prevent overheating
BACKER: THERMOSTATS AND THERMAL CUT-OFFS
Backer always stocks a wide range of thermostats and thermal cut-offs from different brands for use with standard immersion heaters. Thermostats are used when a media (e.g. water or air) should be heated to a predefined temperature. They control/regulate the power supply for an immersion heater or a-duct heater, for exampe. Thermal cut-offs are used as safety devices to avoid overheating and they are normally reset manually.
THERMOSTATS AND THERMAL CUT-OFFS
Thermostats are used when a medium such as water or air needs to be heated up to a predefined temperature and the power supply controlled or regulated. Examples are immersion heaters or
duct heaters. Thermal cut-offs are used as safety to avoid overheating and normally they are reset manually.
Stari katalog: In this section we present the range of thermostats, thermal cut-offs and terminal boxes that we normally carry in stock for use with designs specially adapted co client requirements.
BACKER:
Immersion heater with box
Industrial baths
Domestic heating
Immersion heaters in electric boilers and water heaters
Electric batteries
Air duct heaters
Immersion heaters in e.g. boilers, water
heaters,
Batteries and duct heaters
header

Header

Dimension

See our standard catalogue

Types

Rod
Capillary tube design with bulb
The thermal cut-offs have manual resetting
Combined thermostat and thermal cut-off

Others

Thermostat
Breaking capacity
16 A/400 V
20 A/240 V

Thermal cut-off
Breaking capacity
10 A/400 V
20 A/400 V
40 A/400 V

Contact function
Breaking 1-, 2-,3- and 4-pole
Alternating 1-pole


Contact function

Breaking 3-pole
Alternating 1-pole

Text

Text