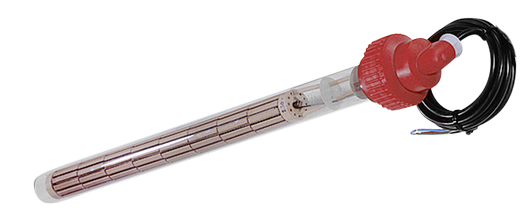 KR FLYER:
Description: This type of heaters are manufactured in protective tubes made of quartz glass. They are delivered with protective caps and connection cables. The advantage of this type of heater is the possibility of changing the ceramic cartridge together with heating coil without changing the protective tube.
Purpose: They are used for heating of fluids in electroplating baths and tanks. The heaters are immersed directly in working solution.
Heaters in tubes of quartz glass are suitable for: phosphating, nickel-plating and tin-plating. Transfer of heat from heater to fluid is made by radiation through glass and therefore glass tube remains cold and no deposits are formed at the surface of glass tube.
No deposits are formed on glass tubes in processes of phosphating, nickel-plating and tin-plating.
Glass tubes are not resistant to mechanical damage and shocks.
Glass tubes can be seriously damaged when operating on dry (outside of fluid).
As a rule glass tubes are resistant to acids. Hydrofluoric acid is an exception,
Phosphating baths
Nickel-plating baths
Tin-plating baths
Other electroplating baths and tanks
header

Header

Type of heating

Liquid heating

Material

Quartz glass

Dimension

Insertion length (length of tube): L: 400, 600, 800, 1000 mm

Diameter: FI55mm

Assembly




Connection

Cable

2000 mm connection cable

Types

With ceramic heater inside tube

With tubular element inside tube

Others




Protection class

IP55




,,,,STANDARD RANGE....

u desnu tabelu

Design




Adventages

........

Voltage

230V 400V 3x400V

Power

1000W 1500W 2500W

Power alternatives: 250W 500W 750W 1000W 1500W 2500W 3250W 4000W

Operating temperature (Surface temperature)




Surface load




Safety




Thermal control




Quality (Control/Quality) (Control)




Optional (Options)




Insulation




Surface coating (Emmisivity)




Max. working pressure




Standard dimensions

...............

Fixing devices




Inactive length

Inactive length: 150mm

Weight



| header | Header | Header |
| --- | --- | --- |
| Type of heating/cooling | Text | Text |
| Material | Text | Text |
| Dimension | Text | Text |
| Assembly | Text | Text |
| Connection (electric) | | |
| Types | | |
| Others | | |
| | | |
| Design | | |
| Adventages | | |
| Voltage | | |
| Power | | |
| Operating temperature (Surface temperature) | | |
| Surface load | | |
| Safety | | |
| Thermal control | | |
| Quality (Control/Quality) (Control) | | |
| Optional (Options) | | |
| Insulation | | |
| Surface coating (Emmisivity) | | |
| Max. working pressure | | |
| Standard dimensions | | |
| Fixing devices | | |
| Inactive length | | |
| Weight | | |
| Protection class | | |
| Standard range | | |
Text
Table description

| Length of tube | Active lentht | Voltage | Power | Code |
| --- | --- | --- | --- | --- |
| 400 mm | 250 mm | 230 V | 800 W | GG.04.001.01 |
| 400 mm | 250 mm | 230 V | 1000 W | GG.04.001.01 |
| 600 mm | 400 mm | 230 V | 1500 W | GG.04.001.01 |
| 800 mm | 600 mm | 230 V | 2000 W | GG.04.001.01 |
| 800 mm | 600 mm | 230 V | 2500 W | GG.04.001.01 |
| 800 mm | 600 mm | 230 V | 3000 W | GG.04.001.01 |
| 1000 mm | 750 mm | 230 V | 2500 W | GG.04.001.01 |
| 1000 mm | 750 mm | 230 V | 3000 W | GG.04.001.01 |
| Round ceramic heaters | Header | Header |
| --- | --- | --- |
| Prečnici: | Text | Text |
| Ø13/7-2 Cer | Text | Text |
| Ø14/7-3 Cer | Text | Text |
| Ø17.5/7-4.4 Nemačka | Text | Text |
| Ø18.5/7-4.5 ? | | |
| Ø19/9-3.6 ? | | |
| AR Ø20/7-3.4 centralna 5.5 | | |
| AR Ø20/7-5 centralna 3.5 | | |
| AR Ø22/7-5 centralna 3.5 | | |
| AR Ø22/9-4.3 centralna 8 Fen | | |
| AR Ø25/7-5 centralna 5 | | |
| Ø25.5/7-5.7 Bela | | |
| Ø25.5-26/7-4.3 ? | | |
| Ø26/17-4 | | |
| AR Ø27/9-4.8 centralna 5 OTVORENI KANALI | | |
| AR Ø30/13-4 (3.7) centralna 13 | | |